Hmmm… not sure.

Many believe that a company must fit with its clients. Ok. But if a company had to bend, change and shift to accommodate each customer, where is the consistency in service? We pride ourselves as the ultimate solution providers but the question is do you have a problem we want to solve? Do your core values align with ours? We need good synergy, you and I. Or you can kiss your marketing budget goodbye.
Truth is, at HellMedia we do things differently around here, and there's a very good reason for that. Experience has taught us that YOU need to be just as invested in your success and we will certainly be. It's the only way to get the best out of YOUR marketing.
MARKETING IS AN INVESTMENT, NOT AN EXPENSE.
Having a great business or product is important but what matters more is how you handle the marketing. We know from experience that underestimating its impact can stifle your growth and wreak havoc on your business in the long run.
At HellMedia, we are all about marketing and we know a strong partnership with our client is critical for a prosperous outcome for us both. We don't think of you as just a business deal or a way to make quick money, we see you as partners we are willing to embark on a success journey with. At HellMedia, we are 100% committed to growing your brand and amplifying your business DNA. We are dedicated to meeting the needs, vision and intrinsic values of the decision-maker.
Your success really isn't all about us and what we do. On your part as an entrepreneur and true representative of your company, you must have the capacity to feed us all you know and explain the big picture with as much willingness and passion as you can muster. Without you, we will be unable to reproduce your distinct business DNA, in any marketing capacity, successfully. That's a fact.
INVEST YOUR TIME TO START IT RIGHT.
Cutting corners doesn't pay.
In all my 20 years as a marketer I can say for a fact that we are not magicians. Yes, people want the easiest way out but that is not the truth about marketing. Investing a little bit of your time and being engaged in the process is mandatory. If you think that dumping thousands of dollars on a marketing strategy (not of your own making!) will result in sales, profits and the good life, you're wrong and we shouldn't waste each other's time.
Real marketing takes time… time to build awareness, time to get to know your audience, time to study your metrics and time to strategize next steps from where you actually are, not where you think you may be.
CAUTIOUS, NOT FAKE. Seriously, keep it real.
Us two, we need to talk. We need to understand your service, product and ideology before accepting the great task of promoting your business to the masses. Your vision needs to align with our core values too, because we take pride in making money with ideas we support and believe-in ourselves. As professionals, we must give 100% of our focus and abilities for every task we're billing and we'd be lying if we feigned interest in your ultimate goals.
Know where you want to go and we'll take you there, fast. If you're in the market for someone to tell you where to go with your own business, we must gracefully decline the journey. If you're ready to take this journey with us, and you're willing to be as invested in your business success as we'll surely be, it would be our pleasure to work with you!
Hellyeah
Yeah, okkkk. We probably sound a bit too sure of ourselves right about now… thanks for noticing! It's also true that we're not the cheapest provider in town… uhmmmm, yup.
We know people are pointing fingers and whispering behind our backs but guess what…
WE. DON'T. CARE. The proof is in the profit. At the end of the day, it's all about fantastic ROI… agreed? Excellent.
---
Are You A Good Fit For HellMedia?
If you're driven by results, then HellMedia is surprisingly an affordable solution for the unmatched ROI delivered, the fast high-ranking and the guaranteed increase in your website traffic.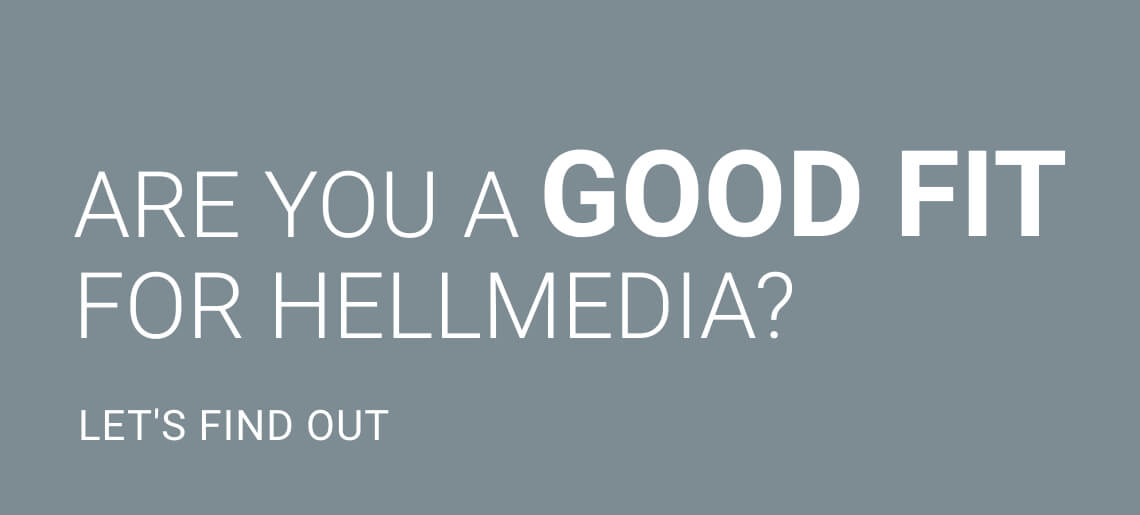 Is HellMedia Expensive?
At HellMedia, we're very proud to offer very affordable tailor-made services and payment options that fit your budget. There are solutions to all types of businesses: from small to medium-sized enterprises, to large corporations.
Does HellMedia offer eCommerce SEO as well?
SEO is SEO. We do it all! We take care of everything, so you can lean back and enjoy your new earning potential to the fullest. Best part? Our services come with Domain Authority Boost guaranteed. How's that for risk free?